Hunting
The company manages two hunts COLCHI area about 2000 hectares. Forest hunting is part of the Protected Landscape Area Litovelské Pomoravi, the character representation of the floodplain forest of oak, linden, birch, hornbeam and the spruce. Různověké stands with a significant proportion of coppice offer favorable conditions for breeding birds danse srnční, black and pheasants.
Fallow deer in hunting has always kept in freedom. Is there a mutation in both red and black. Hunting fallow deer during the rut Hunting quality is exacerbated by a very good experience rocháním říjných fallow. The peak heat each year in the period from 20 to 25 October. Hunting is a combination of waiting šoulačkou, repektive to bringing gang to October. For a successful hunt is to be expected with 3-4 days of hunting. Every year, fallow-medal record catch values.

Deer is located in a densely populated as in the forest hunting and the hunting field. The quality of trophies is the average, relatively frequent occurrence of abnormalities. The top of the deer rut at the end of July and August.
Wild boar hunting in the forest is a constant game. Annually fished about 40 pieces, mostly at night, lying in wait. Exceptionally organized joint natláčky.
Company's operations are primarily focused on breeding birds through bird cage rearing. It is based on their own breeding flock rookie general, royal pheasant, wild turkey, which is modified every year and have selected. Hatching takes place in its own hatcheries, breeding the standard way. Ochovaná young animals at 8 weeks internship is transferred to the pheasant. By the end of July, all animals bred to be contributed to the freedom released into the wild.
Every year, hatching 50 to 60 thousand pheasant chicks, which are mostly sold in different age rearing. The hunting ground is released 15,000 chickens in the placement of 8 weeks.
The pheasant breeding company continues the rich tradition of bažantnictví Litovelské from the sixties to the eighties and has more than thirty years experience in breeding pheasant.
Almost all production is Slovena fishing pheasant hunting in the form of charges, mostly by foreign hunters and trappers of the home. Excludes individual furlongs is about 300 pheasants, it is possible to ensure excludes 800-1000 pheasants.

The hunts are hunting the hunters secured a full service, interpreters, trumpeters, refreshments during the hunt in hunting cabins, etc.
The actual hunting season starts in pheasant harvest in the second half of October in the lesopolní pheasant. At this time, we provide a pheasant hunting with dogs slíděním by at least three hunters. Furthermore, hunting continues in November and December and ends in January.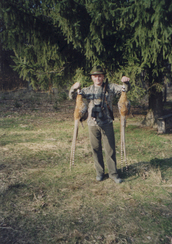 Our goal in breeding pheasants is to revitalize the natural movement of chickens in the optimum age to nature with a view to their successful adaptation to the environment and achieving desired outcomes, ie. well advanced to offer hunters the perfect pheasant přepeřeného létavostí. Discharges from pheasant hunting just before the boxes do not perform this method of hunting supply is a major breach of ethics and harm their own hunting missions.

Besides the addition of the general pheasant research almost 25 years the royal pheasant rearing and wild turkey. Annually, about 100 fowls hunted pheasant royal for preparation. Hunting takes place in late January) most burrow in snow. They hunt at dawn, waiting time for morning or evening waiting. Is optimal hunting rifle.

Rearing wild turkey is no simple matter. The aim is to allow hunters catch over trofejových turkey. Hunt in the month of December at řadovacích trees at dawn or in March when the flow šoulačkou. A suitable weapon is smaller caliber rifle (Rem Hornet.. 222).
COLCHI The company operates hotels and restaurants aimed at hunting tourism and hunting is used primarily to guests. There are 13 rooms with 30 beds. Rooms are furnished in a European standard, hunting guests have rooms available throughout the course of the hunt. Location hunting dog in the room is possible, parking is secure.
Restaurant open all day is focused on venison dishes with a variety of appetizers as well as dishes of pork, beef and poultry. Breakfast is served buffet, or according to your request. There is outdoor seating, game room, etc. There is also a shotgun shooting range.
Those who are interested can visit the Baroque Castle Usov a hunting museum, former residence of the Lichtenstein and castles Bouzov and Sovinec.
Quiet village environment close to the hunting grounds and floodplain forest offers hunting opportunities outside the mental and physical relaxation.